A billboard with an image of Windsor Mayor Drew Dilkens became the subject of online ridicule last weekend due to its prominent typo.
Located on Wyandotte Street East near Parent Avenue, the large sign showed a smiling Dilkens in a crossed-arms pose and a message in block letters: "Thank you Windsor Regional Hospital YOUR CARE IS CRITCAL (sic)."
The sign also bore the official logo of the City of Windsor.
It didn't take long for the billboard to draw a response on social media on Saturday.
"I have so many questions about this thinly-veiled campaign ad. Who paid for this?" tweeted Pat Papadeas, host of the Windsor-focused podcast Rose City Politics. "Who was the proofreader?"
Photoshopped versions of the billboard soon followed, with Dilkens replaced by images of various others in grinning poses next to the obvious misspelling of "critical."
"Critcal? Is this for real?" chimed in Philippa von Ziegenweidt of the activist group Citizens for an Accountable Megahospital Planning Process, who have continually clashed with the mayor and Windsor Regional Hospital leadership.
Reached on Sunday, the mayor's office stated that the billboard was designed and put up by Douglas Marketing Group as part of an ongoing marketing campaign partnering Windsor Regional Hospital with many local organizations and municipalities — including the City of Windsor — in order to attract nurses to the region.
The mayor himself was not involved in the creative process behind the billboard, and the City of Windsor's total contribution to the campaign has been about $5,000.
According to the mayor's office, Douglas Marketing Group took responsibility for the spelling error. The billboard was replaced by a different, unrelated advertisement on Monday, at no additional cost to the campaign partnership.
In a statement to the Star, Douglas Marketing Group president Kay Douglas wrote: "We apologize for the focus of the message becoming the missing 'I.'"
Douglas wrote that it's "unfortunate" the focus of the billboard's message has been minimized.
"Our people are human beings and to error is human. We do not take the impact of this 'I' lightly because it is not about 'I' it is about us as a community."
Douglas Marketing Group will be donating to the Windsor Regional Hospital Foundation this holiday season.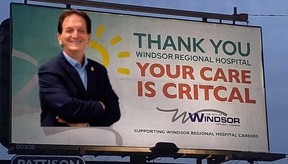 A spoof of the Windsor billboard with a spelling error – this one featuring former city councillor Paul Borrelli, as photoshopped by John Haldeman. Windsor Star
Asked for further comment, Windsor Regional Hospital CEO and president David Musyj expressed his exasperation — not with the billboard and its typo, but in regards to the controversy.
"Let's get a grip and focus on what's important right now — which is getting third doses in our community and dealing with the pandemic," Musyj said.
"It's a spelling mistake. If someone wants to make hay about that, I think they're misguided, and I wish they'd focus on what's important … I'm dealing with trying to get as much vaccine into Windsor-Essex as we can. With all due respect, give me a break."
"That's the problem with social media," Musyj added. "If there was nothing else going on — Hey, have fun with it. But there is serious stuff going on right now."