For the first time in Windsor history, a citizen has officially asked the city to investigate a municipal candidate's election expenses.
On Thursday, the last day allowed for the Oct. 17 election, local political adviser Paul Synnott filed an Application for Compliance Audit with the City of Windsor, requesting that a committee look into the campaign spending of candidate Gabe Maggio.
Maggio, an immigration consultant who lost by just 251 votes to Rino Bortolin for a Ward 3 council seat, could not be reached for comment.
Synnott, a volunteer adviser on the municipal election campaign of Bortolin, among others, said he has nothing personally against Maggio. Synnott just wants transparency.
"It's nothing malicious," Synnott said after filing his audit request. "But the city won't investigate on its own. It has to be initiated by a citizen."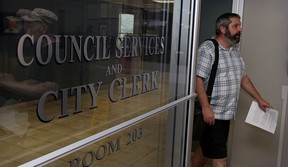 Synnott was perusing election expenses that by law were filed 90 days ago and have since been posted on the city's website.
Synnott noticed Maggio listed a $500 donation from an address in Michigan, and decided to look a little deeper, since the Municipal Elections Act says donors must normally be residents of Ontario. Synnott said he then could not find mention of a meet-the-candidate booth Maggio had at last year's Blues Fest. Even if the booth was donated, Synnott said the Municipal Elections Act requires that in-kind donations be included at fair market value.
He also wonders if Maggio listed a portion of his office as part of his expenses, since he believes the candidate used it for campaign activity.
Maggio did not return calls from the Star on Friday and Thursday.
None of Synnott's questions mean Maggio did anything improper. Now a three-person committee must review the application and decide if an auditor will be hired. If an auditor finds that expenses are amiss, the committee will decide whether to pursue the issue in court, where a judge would make final determination, including whether to impose a fine or anything else.
If the application has no merit, Synnott could be on the hook for costs.
Synnott knows he is opening himself up to accusations that he is politically motivated, since he worked for one of Maggio's rivals during the election campaign.
"I see no value in doing this just to attack an opponent," said Synnott, a fundraiser at CJAM, where he contributes on air to the Rose City Politics radio show. "I mean, Rino won. I just see it as promoting transparency. I am in favour of an auditor general. I have campaigned on one for years.
"Municipal politics have always been a focus of mine."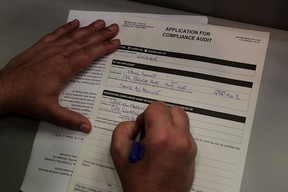 Chuck Scarpelli, the city's manager of records and elections, can't say why no one has ever before filed such an application, while certain other municipalities occasionally receive them.
"Maybe Windsor candidates are filling out their expenses properly," he said. "And it just depends who wants to come forward to ask for an audit."
University of Windsor political scientist Lydia Miljan won't speculate on who's right in this case, but she likes the idea of greater scrutiny in general.
"For this to happen means there are people who are interested in investigating election expenses, which is good," Miljan said. "But my view is that there should be investigations as a matter of course."
The Windsor audit request was filed on the same day former Peterborough Conservative MP Dean Del Mastro was ordered to pay $10,000 and sentenced to one month in jail and four months house arrest for overspending on his 2008 campaign, then taking steps to cover it up.
"The Senate spending scandals brought this type of issue to light," Miljan said. "Now there's a lot more scrutiny on all levels of government."
Read the original article on the Windsor Star HERE